Popular Magazines For Libraries
We are often asked to provide sample lists of popular magazines for libraries of various types and sizes.  It's easy for us to pull data like this from our database to share with our customers.  It's also interesting to see the changing landscape in the publishing industry too!
We just completed an analysis of the most popular magazine titles for 2017 for both public library and school library accounts and would like to share the information with you.
The list is in order of popularity (most frequently ordered magazines by libraries).  Since we mostly work with public library and school library customers, this list is reflective of that type of library.
People
National Geographic Kids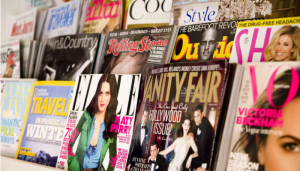 Sports Illustrated For Kids
National Geographic Magazine
American Girl
Time Magazine
Sports Illustrated
Better Homes & Gardens
Good Housekeeping
Seventeen
Highlights For Children
Ranger Rick
Popular Science
Real Simple
O, The Oprah Magazine
Zoobooks
Martha Stewart Living
Prevention
Cooking Light
Discover
Rolling Stone
Popular Mechanics
Family Handyman
Highlights High Five
Southern Living
Country Living
School Library Journal
Taste Of Home
Health
Family Fun
Entertainment Weekly
Discovery Girls-Ceased
House Beautiful
Glamour
Family Circle
Boy's Life
Library Journal
Food Network Magazine
Money
Redbook
Mother Earth News
Men's Health
This Old House
Field & Stream
Car & Driver
Parents
Motor Trend
Reader's Digest
Smithsonian
New Yorker, The
Psychology Today
Booklist
Vogue
Woman's Day
J-14 Magazine
Vanity Fair
Girls' Life
Scientific American
Teen Vogue – Ceased
Mad Magazine
Rachael Ray Every Day
Kiplinger's Personal Finance
HGTV
Craft Ideas – Ceased
Wired Magazine
Weight Watchers Magazine
Cosmopolitan
Reader's Digest Large Print
Bon Appetit
Atlantic, The
InStyle
Dogster
Wall Street Journal
Rodale's Organic Life-Ceased
Cook's Illustrated
National Geographic Traveler
Architectural Digest
Ranger Rick Jr.
Outdoor Life
ESPN, The Magazine
Runner's World
Brides
Fine Gardening
Catster
USA Today
Forbes
Shape Magazine
National Geographic Little Kids
Birds & Blooms
Ladybug
Bloomberg Businessweek
Essence
Self Magazine – Ceased
Vegetarian Today – Formerly Vegetarian Tiimes – Ceased
Midwest Living
Ask
Muse
Popular Photography  – Ceased
People en Espanol
Yoga Journal
Disney Junior
US Weekly
Make Magazine
Esquire
VOYA, Voice Of Youth Advocates
Outside Magazine
GQ – Gentlemens Quarterly
Babybug
Game Informer
Simple & Delicious
Fortune
Hot Rod Magazine
Publisher's Weekly
Economist, The
Sunset
Saturday Evening Post
Family Tree Magazine
Barrons
Cobblestone
Bicycling
Traditional Home
Transworld Skateboarding
Threads
Women's Health
Regional publications and local newspapers have been removed.
Subscription Services For Libraries
Rivistas Subscription Services wants to be your one stop shop for all things magazines, periodicals and newspapers.  This even goes for those obscure eclectic titles you order too.  We go the extra mile to make sure you can order your entire list through us.
As we analyzed our 2017 orders, we noticed that the top 125 titles show above account for 60% of the titles we ordered, while the remaining THOUSANDS of titles made up the remaining 40%.
If you would like the list in spreadsheet format, here it is for your convenience: